Who we are ?
Huawei Product Devolopment Industrial Ltd is an innovative product design and manufacturing company. We can provide our clients with one stop service from product design, industrial design, prototyping,prototype injection mold,and tradition injection mold fabrication all the way up large-scale manufacturing.
We have professional product design team and industrial engineering team. Before we start the product design, we conduct a great deal of market research. We always strive to completely understand potential demands of the market and then develop and produce cost-effective and highly profitable products for our clients.
With over 20 years experience in OEM production field, we also well know what kind of problems can be expected when launching mass production, and we take steps to avoid these issues during product design stage. Our aim is to provide our customers with the highest quality, while following strict safety standards to arrive at the most economical, reliable, and stable product design.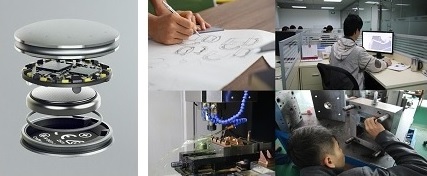 Our service is covering with:

-Product Design and development for small home appliances
-Prototypes processing for automotive, conmmunication and medical industries.
-Prototype injection molding and molded prototypes for high precision parts of automotive, communication equipment and madical instrument.
-Plastic injection mold fabrication
-Electronic products and small home appliances manufactureing

Our shop is well-equipped for prototype processing, molding , assembling.
Our prototype shop and mold shop is in house, We do not outsource this important part of the product design process, this insure that all the product design work flows with our company only, Your intellectual property is protected because it is never exposed to anyone outside of our company, The design drawing and technical document are highly protected

We have a strict and highly-efficient production processing management system, including DFM meeting procedure, Design Verification & Validation procedure, and QC a management system that will guarantee our good quality and in-time delivery.

Japan requires very high quality products, and 70% of our products exported there to well-known automotive, electronic products and hobby product manufacturers. 30% our products are exported to Europe and Middle East.

Huawei Product Development Industrial Ltd is your reliable partner in product design and product manufacturing.
For more details, please contact us at
Contant Us
Phone: +86- 86-755-8238-2595
Mobile: +86-139-2383-5403

China Product design and development company, Prototyping, Injection molded prototypes ,Plastic injection mold fabrication, Assembling of small home appliances and electronic products in Huawei Product Development Industrial Ltd.